Tobias Tröndle, former world champion hairdresser, is launching
with his recently opened salon on Börsenstraße.
salon into the new year. There he focuses on color
and styling. In this interview, he talks about the latest
trends and how hair can be protected
from stress and strain.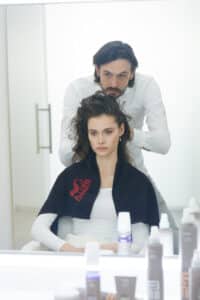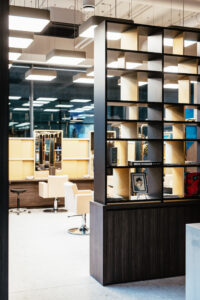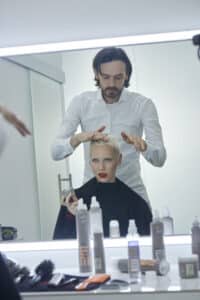 JOURNAL FRANKFURT: Mr. Tröndle,
how many women come to you
to have their hair cut for a new
for a new phase in their lives?
TOBIAS TRÖNDLE: That's a good question.
question. The most important reason for optical
changes is still likely to be separations.
tions. But we do notice that a certain
that there is also a certain desire for new
desire for new looks. The growing
intensity of advice at this time makes
this more than clear. The fact that people are
are more open to change in principle
we can also see from the many new customers
new customers who come to us and – with us, as it were
and – with us, as it were – want to start the next chapter
of their lives with us.
The late Udo Walz said that he was almost
was almost more of a therapist than a hairdresser. How
much of a psychologist is there in a hairdresser?
Udo was a friend of mine, and his
wisdom and humor will always
always remain in my memory. Of course
we share the worries and needs of our
of our customers. The
requires empathy and a certain
and a certain level of trust, which
which only grows gradually. But there are also
people who see a visit to the hairdresser as a
time out, during which they would like to fade out their
their problems.
Now to your actual craft:
What cuts are currently in vogue?
In recent years, the motto has been:
The main thing is long hair. But in the meantime
there are successful young female influencers
who are developing their own fashion again.
The proportion of long hair is still very high
very high, but for many of them the long
bob is the trend. And the pageboy head, although
even if not classic, but blunt and
hard cut. Or textured, i.e. with
a certain structure, for example
softened. This creates a slight
step is created. Whereby also more and more
more and more women are opting for short haircuts
Pixie Cuts. For men, on the other hand
men, on the other hand, we are seeing a tendency
hair.
But not every cut suits every
face shape, does it?
That's right. The shape of the face is an important
factor when it comes to the basic length
and volume distribution. Over-
we pay attention to the cheekbones and the
the chin and, of course, the forehead, especially if
the forehead, of course, especially if forehead
forehead motifs come into question. The most
cut bangs at the moment is the Curtain
bangs, worn by actress Dakota Johnson
or It-girl Rocky Barnes wear. Gene-
rule of thumb: round face, longer hair and a narrow face,
longer hair and a narrow face,
shorter hair.
What are the current color trends?
In corona times, colorations had to
had to last as long as possible. With free-
techniques such as balayage, we can
guarantee that the hair grows out softly
grow out softly and the color
homogeneous image even after weeks.
Winter colors are currently en vogue,
from natural brown and amber
to honey blond. Those who use their
hair to make a statement,
have it dyed bright and clear instead.
On top of that, there are more customers
customers with gray hair. Especially for
Wella has launched new treatments
treatments that give hair a lively shine
and remove the yellow cast.
From UV rays to dry air, how
can hair be protected from summer
from the stresses and strains of summer?
Shampoos, conditioners and cures that provide plenty of
moisturizing are the be-all and end-all.
I personally love leave-in products,
which replace the classic conditioner
in the shower. There are also
spray products that are worked in before combing
before combing. In addition, oils can be
oils can be used to close the structure
and protect the hair.
What services do you mainly offer in the new
salon mainly offer?
Our focus is on expressive
and brilliant colors, especially free
techniques such as Balayage, Foilyage,
Painting and Brazilian Illuminage. The
Styling is another focus. I
attach great importance to blow-drying the clients and
customers perfectly and to style them in a
modern styling. Among other things
we offer American Blow Dry. This is a little
more time-consuming than conventional blow-drying,
but the look lasts much longer. Fri-
for galas and special occasions are also
are also part of the portfolio. At
in our salon, which we will open in
opened in mid-December at Börsenstraße
7-11 in mid-December.
Source: Journal Frankfurt